Pub review: The Pavilion Arms
Impressive food, great beer and an elegant room for the night – Tristan O'Hana finds Dorset's Pub & Bar of the Year is firing on all cylinders.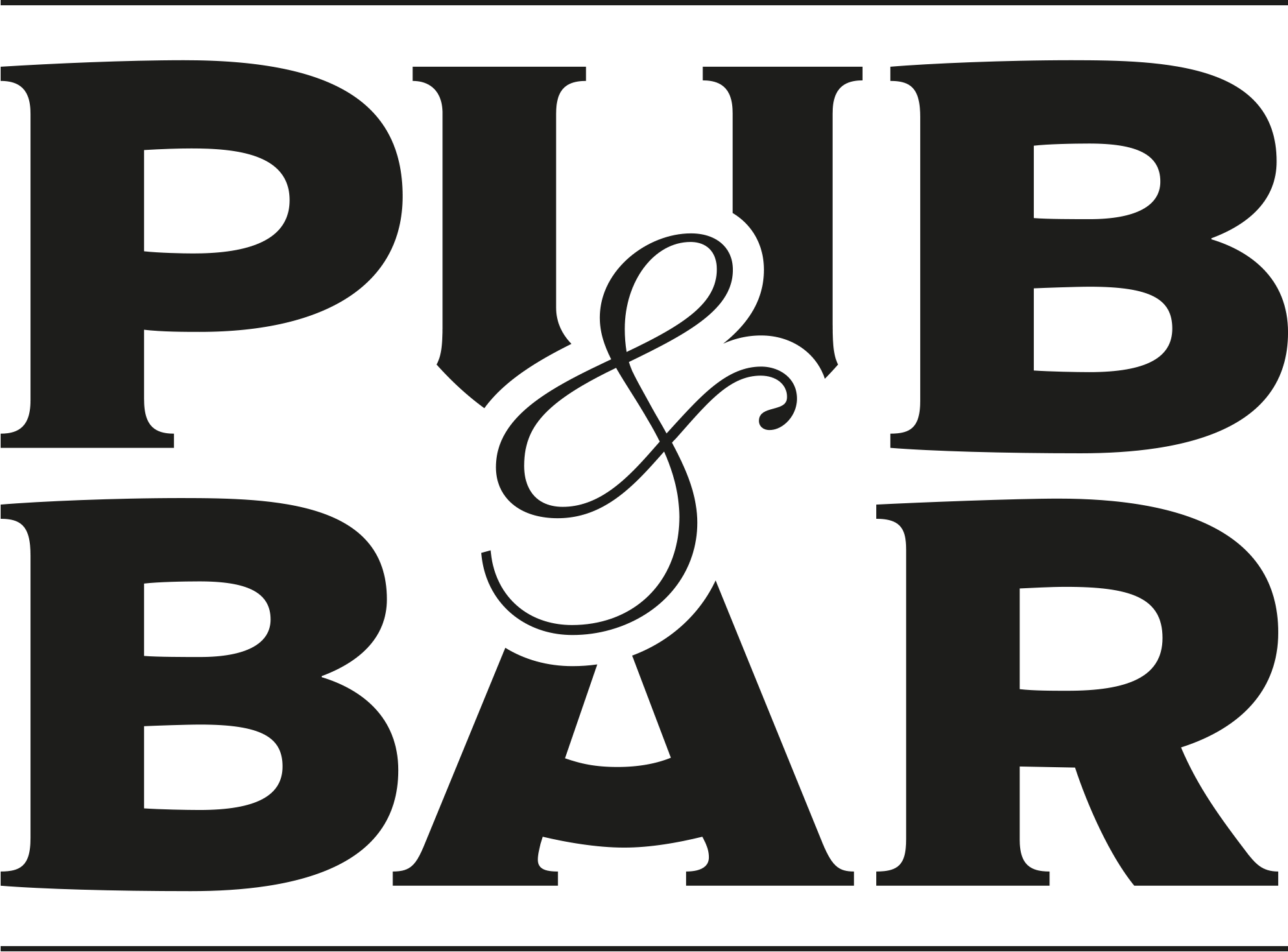 Jun 21, 2022
I definitely have an unfair, stereotypical view of Bournemouth, which is entirely my own fault. Because I've only been there for a stag do or to watch the Cherries in action, Bournemouth to me is either a sensible discussion on what a fine job Eddie Howe did as manager, or drinking enough to cope with Ed Sheeran singalongs in a venue only stags and hens seem to find themselves in. Give me the former any day of the week, but particularly on a Saturday.
Until recently, I hadn't properly explored this coastal town on our southern shores. This is thanks to a very ignorant take on the area, associating it only with beaches full of lobster-red tourists or nightclubs full of them youths. As I say, this was only until recently. Because recently I attended a hen do in the area. My first hen do, in fact. Bear with me here.
My wife and I had our first child last year and the little guy was still too young to be left without his mum while she attended a hen do for a few days in April. So, like a modern-day Hansel, good ol' dad followed the trail of prosecco corks around Hampshire and Dorset over a long weekend, dropping in on the gals for a quick feed every now and then (him, not me) before returning to our south coast adventure, which, as you may have guessed, involved checking out a few of the pubs in the area. Admirable mentions go to The Fox & Hounds in the New Forest's Lyndhurst, a cracking pub from Fuller's, as well as The Old Mill in Lymington from the folks at Upham Inns. However, it was to be this year's Dorset Pub & Bar of the Year that really stole the show.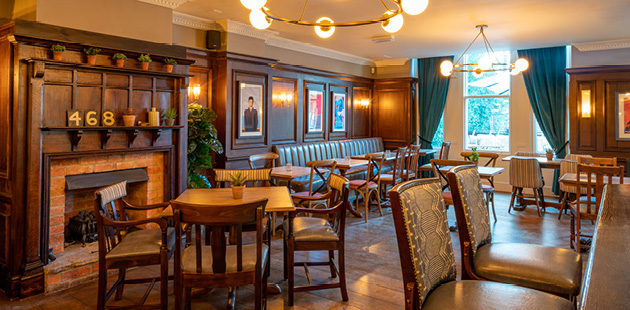 The dining room inside the pub, which also hosts live music
The Pavilion Arms was recently announced as the County Winner for Dorset as part of the 2022 National Pub & Bar Awards. It's a managed operation from Liberation Group's Butcombe Brewery, situated 15 minutes by foot from Bournemouth's town centre and its beaches. In other words, not many (stereotypical) visitors to the area would know about this place. This clearly isn't an issue for the pub, as when I arrived (baby-free by this point) on a Friday evening, its terrace was bustling with friends supping cocktails, couples sharing a bottle or two, and labourers raising pints after a hard day's work. It was a notably varied mix of clientele who have all seemingly made this their go-to when welcoming the weekend. I joined in, ordering a perfectly kept pint of the brewery's Underfall triple filtered lager before checking into my room for the evening.
What about the rooms then? Well, they're pretty pristine. The Pavilion Arms went through a major refurbishment before the summer of 2021, so you can almost still smell the paint in the newly spruced-up accommodation. It's crisp, stylish and fit for purpose in the modern on-trade. That can be said for the whole pub to be honest. Even at the top of the stairs which lead to the bedrooms, you'll find a chic but modest seating area, featuring two armchairs and a solitary succulent sat beneath what one assumes is an original stained-glass window. Many venues would waste this space, but strangely it was one of the most memorable additions that I noted down during my visit.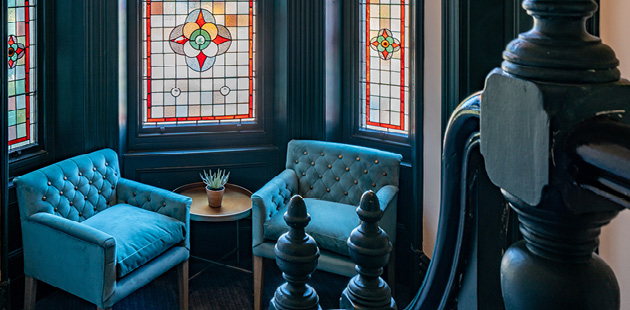 Making use of all spaces
As well as scooping awards for its overall experience, the food at The Pavilion Arms is also getting notable attention. Managed menus have come a long way in recent years, allowing for chefs and managers to craft menus unique to their area despite being under the umbrella of an owner's operation. Being a south west business, Butcombe likes to highlight where its ingredients come from and which terroir is being utilised from this part of the UK. Brixham fish, chicken from Creedy Carver in Crediton, vegetables from Bishop Sutton… it's all very carefully constructed. What's more, the managed element hasn't hindered the ambition of the menu – a beautifully presented artichoke, roasted garlic and truffle ravioli was a starter highlight (£8.95), which came with crispy shallots, watercress and extra virgin rapeseed oil. Not your average pub grub. Or, these days, perhaps it is?
Mains were equally impressive, with the Cornish sole (baked whole), with crab and chilli butter, purple sprouting broccoli and new season potatoes (£18.95) wrestling for the top spot with the Ston Easton Farm lamb shawarma pie, served with a filo pastry, sumac, braised gem lettuce, peas, mint and more of those new season spuds (£15.95). After that there are puddings and cheeses aplenty, as well as an Affogato (honeycomb ice cream, espresso and a biscuit), where 50p from every sale goes to The Burnt Chef Project, which is doing wonderful things for the mental health of those within hospitality. Just another lovely touch from The Pavilion Arms.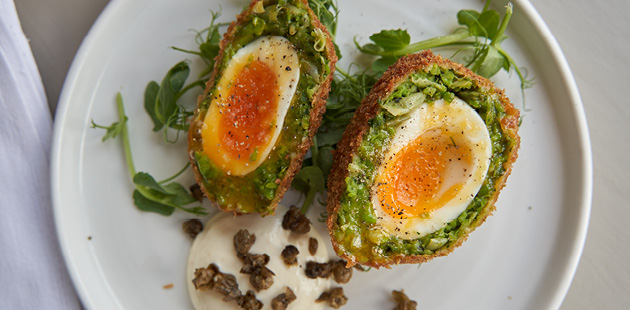 Top quality bar snacks at The Pavilion Arms
Of course, refurbishments, rooms, food and drinks are nothing without the people bringing all of it together front- and back-of-house. I must say, the team at the Dorset Pub & Bar of the Year were something to behold. Solo dining lends itself handily to detailed observation – whether that's cleanliness, customer service or, broadly, how aware a member of the team is when it comes to their area. I wish I'd got the name of the young lad who was single-handily running the restaurant section of the pub while I ate that night, but he was flawless. Calm, friendly, genuine, unflappable. Under the stewardship of general manager Rebecca Ellinger, these qualities were recognised in all of The Pavilion team who I spoke with. It's no wonder this is now an award-winning pub.
You may also be interested in…