Lucky Voice operator profile
All is chipper at Lucky Voice HQ, as the karaoke bar brand capitalises on the experiential economy and looks to double its estate by 2025.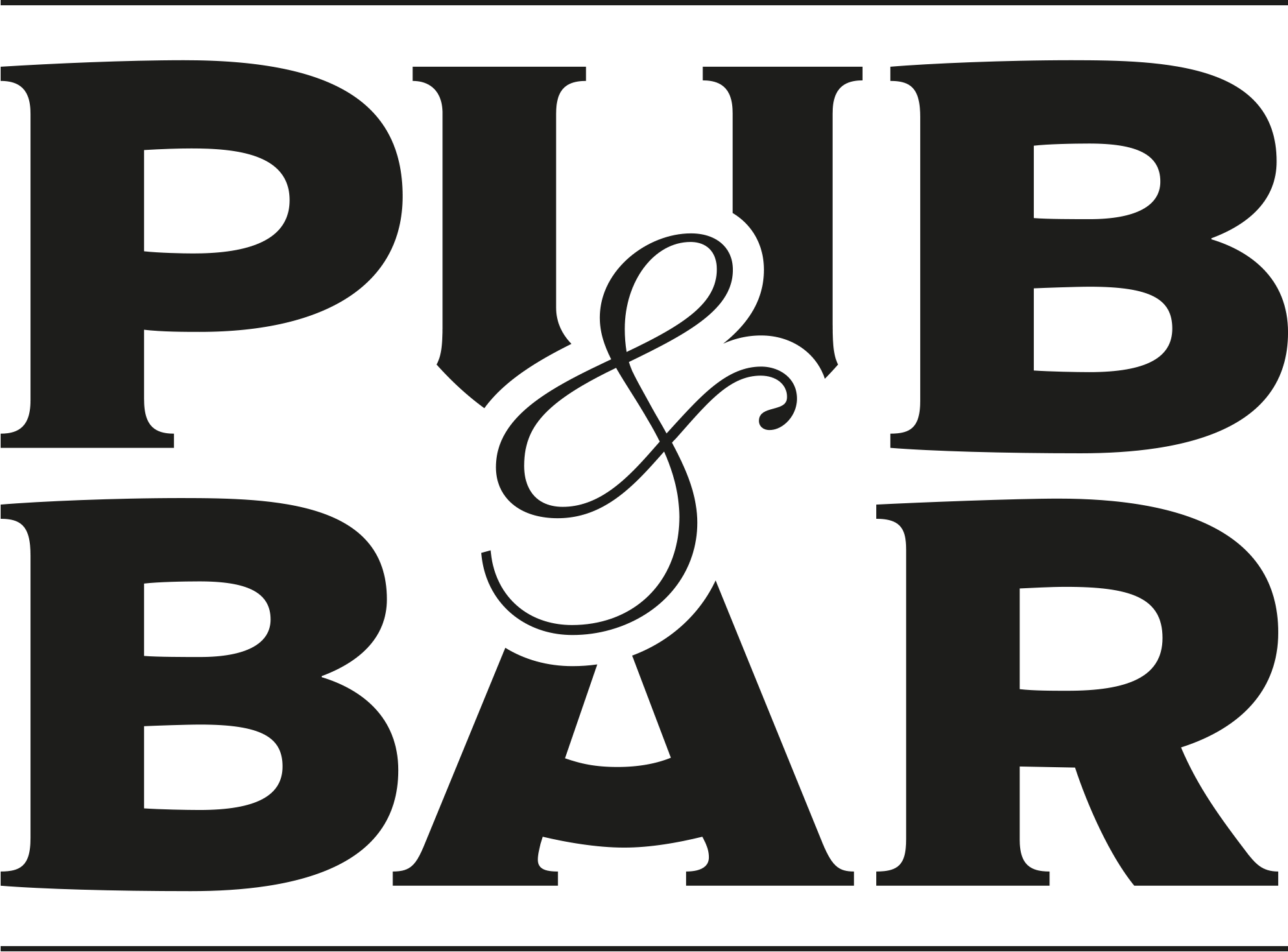 Jan 30, 2023
In October last year, Lucky Voice revealed plans for a major programme of growth and investment, which will see the karaoke and cocktail bar brand double the size of its estate over the next two years.
With venues in Soho, Islington and Holborn in London, as well as Brighton and Dubai, the company aims to grow to 10 owner-operated venues by the end of 2024. This includes an expanded presence in London and new sites in Manchester and Birmingham, along with further franchise development in the Middle East and North Africa. For a business that has been operating steadily since 2005, that is a very sudden change of pace. Just before the Christmas rush, managing director Charlie Elek (above) sat down with Tristan O'Hana to talk about the business, its gradual growth and how the experiential economy has naturally carried the karaoke concept.
P&B: Hi Charlie. Thanks for talking to us. Can you give us a sense check of where the Lucky Voice business is currently at?
CE: The last 18 months have been really interesting. When we reopened in May, we expected there to be a bit of a spike in trade. We saw that, but the spike wasn't a spike, it was a trend, which has just continued ever since. We almost straight away saw different customer behaviour. The way that customers used to use Lucky Voice was that it was a part of their night out, which revolved around other things – it used to be that customers would go and eat before they come and have a sing, and then they would go and have a drink somewhere else.
Customer behaviour changed after Covid – people didn't really want to be bar hopping, you had to book places, and it was a real hassle for customers to be moving from one place to the other. Combine that with our food offer and it's been amazing to see how dwell time has increased. It has led to the business being in a really strong position and all of our venues performing much better than they did before Covid, which meant we were very quickly in a position where we could start to look at the new sites again. We're very excited to be opening Liverpool Street in January and we're looking to get another site confirmed, which would be spring/summer opening, and then another one before Christmas 2023.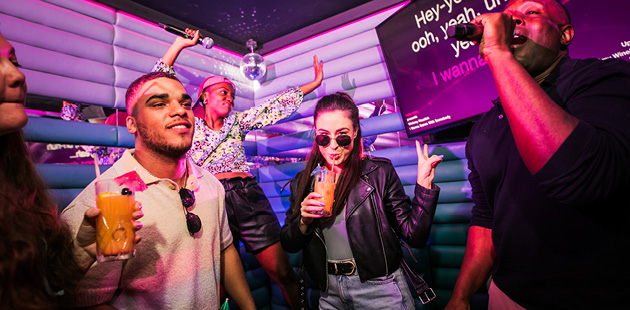 What Lucky Voice is all about
P&B: Lucky Voice first opened in 2005, but experience-led venues weren't really 'a thing' back then. How does it feel to be a part of the ever-growing experiential economy?
CE: We've always known that we're a place for customers to really let go and have a release. It's a chance for some escapism and to get away from what's happening in the real world. We're now very much in this social entertainment space, which wasn't a space when we first started in 2005. When Bounce opened in 2012, that kind of got things going for these amazing activity-based venues. So the combination of that and the way that customers just want this service of release puts us in a great position to really kick on now.
P&B: You're shouting about the Lucky Voice expansion from the rooftops. What locations are you targeting?
CE: We're looking at the cities. We still feel there's space for a few more Lucky Voices in London, and I think definitely corporate hubs, near major public transport links, because we get a lot of people coming from outside London. Birmingham, Manchester, Liverpool and Bristol are very much on our radar.
P&B: The home-working economy has hindered many city-based venues. Does that not worry you when it comes to looking at expansion through city centres?
CE: When we first opened again, we thought it would be a potential hit to our business, and it really hasn't been at all. Take Brighton – you've got a lot of people who live in Brighton and work in London, but they're now more spending more time in Brighton and then spending their money in Brighton venues, which means that site is busy throughout the weekdays.
With London, it has been really interesting, because the patterns have changed, but in a really positive way for us. We're still a destination venue, so while some pubs may be quieter on Fridays, we're still performing well, because we're destination. Then, Tuesdays used to be quiet, but that has completely switched now because Tuesdays for a lot of people is their first day back in the office. The walk-ins that we get from 11pm until 1am on a Tuesday are amazing.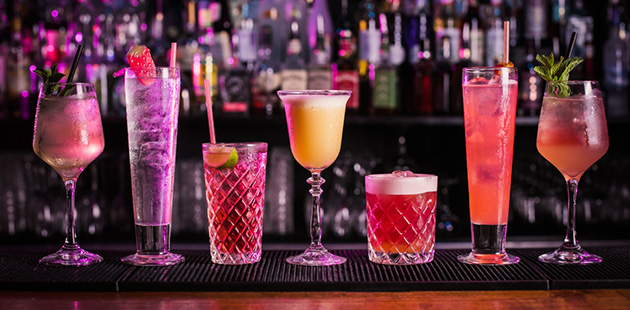 Some of the cocktails on offer at the brand's sites
P&B: It's widely known that you started at Lucky Voice as an intern and you're now the MD. How did that happen?
CE: I was pretty much out of university and heard about an internship at Lucky Voice. I was a big karaoke fan and thought it would be quite fun, not to mention having Martha [Lane Fox, co-founder of Lucky Voice and founder of lastminute.com] on my CV. I thought it would be just a month of doing that and then I would work out what I wanted to do.
I started just as the online business was starting to evolve, the service which lets people sing at home. I remember my first interview was in a meeting room full of boxes of karaoke machines. It got very busy and I was given the trust by Nick [Thistleton, co-founder of Lucky Voice] and Martha early on to start running that side of the business as kind of an almost start-up – the main part of the business was with the venues. We did a pop-up shop in Carnaby Street selling the karaoke machines and Richard Curtis came in on the first day and bought 40 machines to give to all his friends. That Christmas, X Factor wanted to do a partnership. This was all about a year after Brighton opened and it was struggling, so we weren't really sure about new venues – online was the focus of business.
But I started to get more involved in the venue side after a few years, especially on the sales and marketing side. Then the plan was for me to take over from Nick as MD at the beginning of 2017.
P&B: Wow, you've been on quite a journey with the business, haven't you?
CE: It has been an amazing journey. Such a big part of it for me is the team of people that we have. It's really not just me who has this story of progressing within the business – we always try and look to promote from within. At our Soho venue, our general manager has been there for 11 years, so has our assistant general manager. So he's moving over to become general manager of the Liverpool Street site. To have one venue where the team have been there for that long is amazing. And I'm so happy that because we're opening venues that they can keep progressing. I am really proud of the team that we've assembled.
P&B: And looking after that team is a big part of the operation, isn't that right?
CE: Yes. We've put things in place like our Employee Assistance Programme, which includes mental health and wellbeing support services. We need to make sure that our teams don't feel burnt out. We want everyone in the business to be enjoying their job, otherwise it's just not going to work. Lucky Voice is all about joy and having fun, but that needs to be the case for staff as well. For example, our venue in Holborn has a 4am licence, but that means that staff have to be up until this hour and we know that might not be appealing to them. So, we look at how can we make our staff love and enjoy their job alongside making the business work, and that's really, really important to me. If the business is successful, but the staff are unhappy and leaving, then we just have no chance of succeeding in the long term.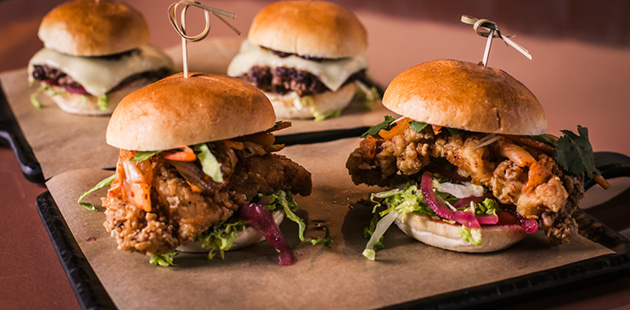 Lucky Voice will be offering more food from its venues
P&B: When we last visited a Lucky Voice, we were really impressed with the blend of technology and personal service. Has that evolved over the years?
CE: We built our own software for the songs, touch screen, curated playlists and people can make payments – it's all so slick. But we're constantly improving that product to make it more personalised. We looked at digital ordering for a while and we have our 'thirsty' button that's famous with our customers. You press a thirsty button, someone comes into the room and you'll have your drinks in there very quickly. While guests who are wrapped up in singing may not even notice our teams coming in, we found that customers love the personal interaction that would be missing without that thirsty button.
P&B: You've spoken recently about Lucky Voice upping its sustainability efforts – how much can a karaoke bar brand do in this space?
CE: We're aiming to become B Corp-certified, so there is a whole load of stuff we're doing, which includes looking at our food menu. Customers are responding really well to it and it's a great thing to be able to talk about in interviews and to tell young people who are joining the business that it's an issue we care about. We're so happy we've started the process. I mean, the list of things that we had to do when we first started was pretty daunting, but things are now becoming habits for the ops guys. It's the first thing they're looking at when they're assessing potential new suppliers or anything else. They've completely bought into it. We're really looking forward to rolling it out and especially as we look at more venues with bigger kitchens as well.
P&B: OK, let's end on a light note. What's your current karaoke go-to?
CE: Well, my favourite band is James, who I've personally seen live many times, so I feel like Sit Down by James is the one. It's something that we always sing when we're out with the team. And, as you might guess, whenever the chorus comes on, everyone in the room sits down, which is a fun moment.
You may also be interested in…