Feature: Street food
Whether you're collaborating with a local operator or getting ready for some much needed outdoor trading, the word on street food could well be worth hearing out.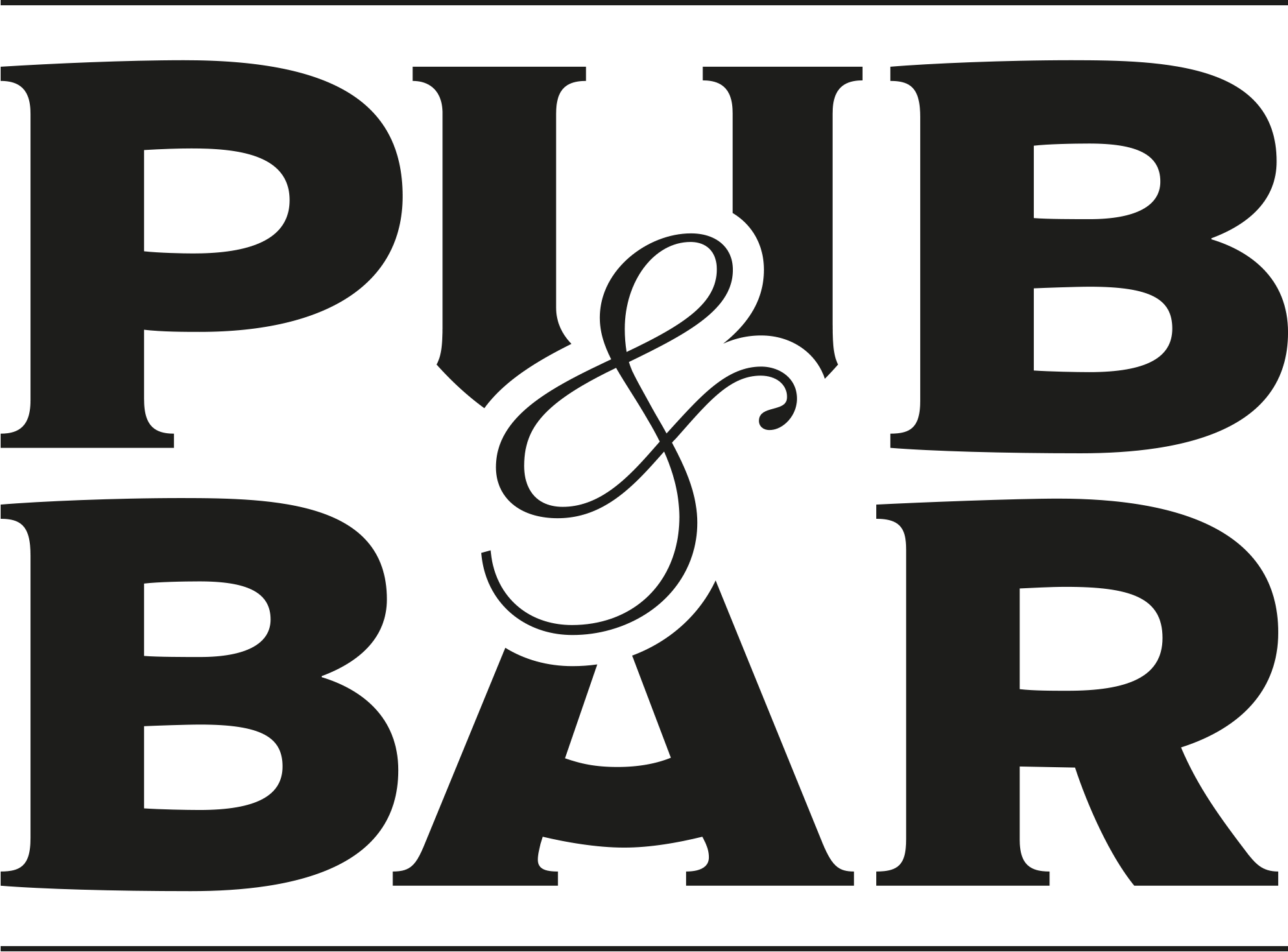 Apr 15, 2021
Don't panic! This is not – repeat, NOT – another feature that is going to tell you that street food is a brand new phenomenon ready to take over menus across the hospitality landscape, wowing operators and consumers alike with revelations and trend salvations a plenty. That would be rather patronising of us, would it not?
No, this is not one of those introductory features. This is a reminder, a refresh, a quick dunk in the deep fat fryer of food finesse, heating up your creative juices ahead of what we all hope will be a bumper summer of pub and bar trading. For the fact is street food set up camp within bricks and mortar kitchens many years ago now – Stonegate's Common Room brand introduced street food options to its menu back in 2015! What happened was jerk chicken, bao buns, chimichurri, burritos, nigiri, cubanos and many other specialities made their way into the lives of your consumers through various pop-ups and car parks a long while back, culminating with a nationwide awareness of not just international cuisine, but a guest expectation of rough and ready access to all of these wonderful dishes within venues that would have previously been limited to fish and chips and Sunday roasts (nothing wrong with that, of course).
This expectation has increased over the years, though, and as thousands of potential customers widened their repertoire through myriad markets and meals, so too did pub and restaurant operators begin to introduce popular street food items to their menus. How have they done it? Well, it depends on the size and style of the operation. Pubcos with hundreds of units will have had development chefs working on menus across managed estates, not necessarily rolling out game-changing churros, but simply extending the options around fan favourites that they know sell successfully – pulled pork, burgers, pizzas, et al.
"There is one staple all pubs should showcase as part of their street food offering – the burger," says Paulina Gorska, marketing manager at Lantmännen Unibake UK. "Look to global flavours that influence the street food trend to add variety and excitement to your burger options – 75% of consumers enjoy experimenting with products from different cultures and countries, so think hot and spicy, American or Korean barbecue, Argentinian chimichurri or Mediterranean, featuring various continental cheeses."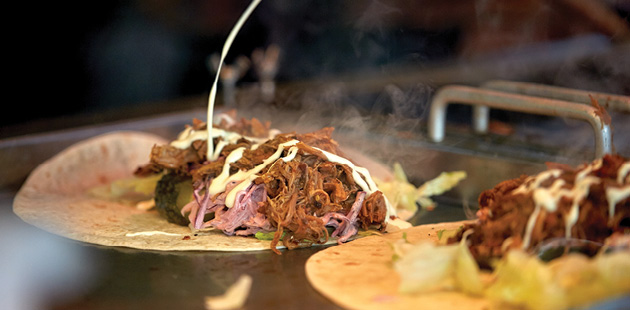 Collaborations and consumers
Of course, not all venues have an exec development chef at their disposal or, in many cases, even an in-house chef to work with. Throughout the past decade, the on-trade has seen a marked increase in the number of external street food operators popping up in the kitchens of pubs, offering the operator a readymade menu that can be delivered without the stress of overseeing an entire brigade. A share of percentage of sales is agreed upon and away they go. Need some examples? Check out Filthy Buns in London's Dalston, White Men Can't Jerk at the Prince of Peckham and Club Mexicana at The Spread Eagle in Homerton. Yes, yes, they're all in London, but they are standout collaborations making the most of a slice of the market that continues to grow.
"Street food is more than just a flash in the pan," says Scott Oakes, commercial manager for St Pierre. "It's an evolutionary shift in eating out which sits perfectly within today's fast-paced society. Research puts the value of UK street food markets alone at £1.2bn, up 9.1% between 2017 and 2018, but it's the shift onto mainstream menus which has really ramped up the revolution. Clearly the appetite is there – the challenge for pubs and bars now is in creating authenticity."
The fast-paced society that Oakes speaks of may seem like a distant memory given the state of the UK over the past 12 months, but once doors are fully open and people are eating out again, you can be sure that consumers will be wanting as much as they can get as quickly as they can get it. At the time of writing, ahead of 12 April, pubs with gardens have sold out their spaces across the country, as legions of locked-in locals prepare for sessions of feasting and drinking that have been denied to them for so long. Not only does this mean a craving for pub classics, but also for dishes that aren't as easily prepared from the confines of their own home.
"Although consumers have been doing a lot more home cooking during lockdown, once restrictions are lifted there will be a real opportunity for pubs to entice diners with cuisine styles that they would not necessarily have felt comfortable cooking at home," says Nigel Parkes, commercial operations director at Creative Foods. "This presents pub caterers with the opportunity to get creative and add real theatre by producing visually indulgent dishes that also happen to be great for sharing on social media, enhance the consumer's experience and drive repeat business: think flavoured mayonnaise drizzled artfully over burgers and mayonnaise with optional colouring for rainbow foods. Or, to capture the imagination and cater for new audiences, consider indulgent options such as 'chacos', where a chicken breast is sliced to make a pocket, then cooked and filled with a zesty combination of fresh lettuce, Mexican vegetables, nacho cheese, relish and salsa, and topped off with crushed tortilla chips and sour cream."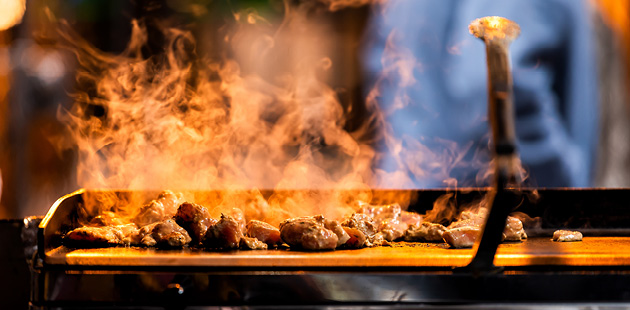 The need for speed
If you've been to a street food market, you'll know how the operation works – scan the stalls, choose from a menu board, order from the vendor and, on most occasions, you'll have your food pretty darn quickly. For some reason there is a nationwide assumption that street food = fast food, which isn't entirely accurate. Just because the formality of a setting is taken away, it doesn't mean the quality of standards or dedicated preparation has to be as well. Plus, that's before you even consider the queues that may form at the popular pop-ups. However, whether or not you believe street food can fly out of the kitchen as quick as a Wetherspoon's wrap is neither here nor there – what matters is that your customers, consciously or not, will be assuming a faster food delivery to their table.
"Above anything else, the very nature of street food demands speed and convenience," says Gary Nunn, managing director of UNOX UK Ltd. "Customers don't want to be left waiting for dishes. Often the authenticity of street food comes from the way in which it is cooked and prepared – and this is only possible with the right kitchen equipment.
"Increased demand for ethnic flavours – together with a growing trend for premiumisation – continues to influence consumer tastes and, as a result, street food is no longer just grilled meats and barbecue-inspired dishes. Instead, there's been a shift towards ethnic dishes such as South East Asian rice pots and steamed buns, all of which require steaming capabilities for vegetables and rice in particular."
We jest about wraps (seriously, have you seen how quickly one appears from a JDW kitchen?), but it's worth pausing here for a moment to consider the humble wrap and its adaptable ability to welcome street food into your kitchen fold.
"For operators keen to take a cut, wraps are a great place to start," says Jessica Ayling, Philadelphia Professional chef ambassador. "Not only are they quick and easy to prepare, they're also highly versatile, allowing chefs to swap ingredients in and out and showcase different flavours. Portable and compact, they also make a great takeaway menu addition.
"As the fastest growing sector in the eating out market, it's little wonder that street food is transcending pop-ups and street vans. Done right, it's a market which has the power to encourage footfall and boost profits, offering consumers on-trend, fresh, fun and authentic food at an affordable price point."
It's a notable conclusion from Ayling. We know street food is no new hospitality revelation, but it is still a very much untapped offer across the pub and bar sector. What's more, it remains in massive demand – we've even heard about a new chef's competition launching this year called the Street Food Championships, which is certainly worth checking out (details below).
The on-trade can be sure to see some striking changes over the next year or so, as operators of different sizes and stature look to take over the units from businesses that have sadly fallen away in the wake of Covid-19. While this means established pub operations could capitalise and expand, it also means those who have so far only traded from a street food stall may find their first permanent home. The result? More consumers expecting access to high quality street food cuisines wherever they go. The question is, will you be ready for them?

Creative Foods: creativefoods.co.uk
Lantmännen Unibake UK: lantmannen-unibake.com
Philadelphia Professional: philadelphiaprofessional.co.uk
St Pierre: stpierrebakery.co.uk
Street Food Championships: streetfoodchampions.co.uk
UNOX UK Ltd: unox.com/en_gb