Bar review: The Mandrake
Tristan O'Hana visits Waeska Bar and YOPO at The Mandrake and gets lost in a wonderful world of abstract beauty and basslines.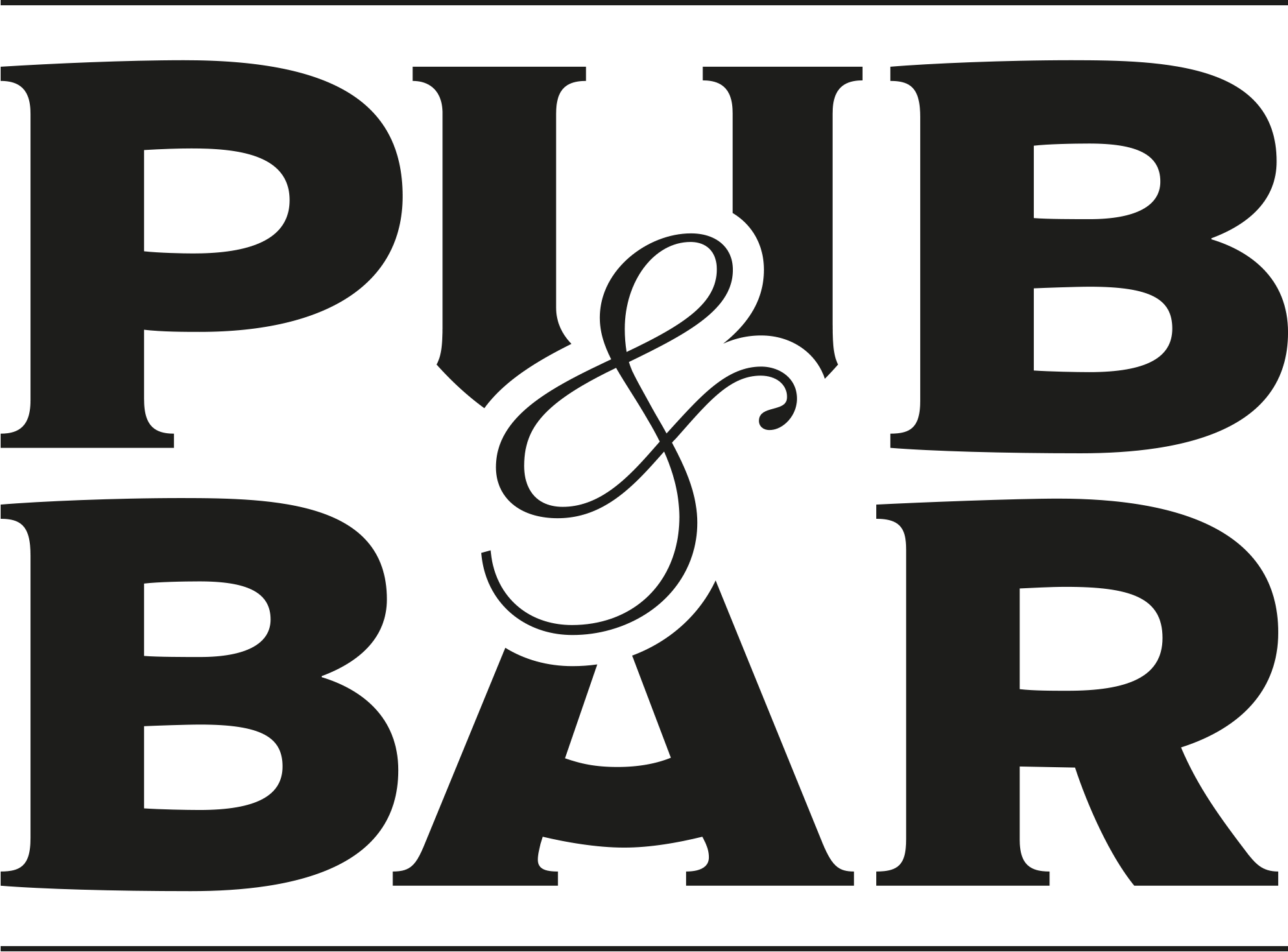 Apr 18, 2023
Visiting Waeska Bar and YOPO at The Mandrake hotel in London's Fitzrovia left me with more questions than answers, as, to be fair, the PR collateral ahead of the experience said it would. During the few hours I spent within the gothic jungle of the boutique hotel, I saw therianthrope on walls, illusional artwork and an ostrich named Showgirl – and this was all before dinner (and drinks, I promise).
The hotel's aesthetic acts as a sneak peek into the mind of entrepreneur and art collector Rami Fustok, who founded the business. Here is a mind clearly much more expansive than mine, as the selection of artists exhibited at the venue testifies to – it takes some vision to put this lot together. Indeed, the hotel brand has become well known for the unique display of culture and art around every corner, curated by the man himself. It's a fantasia of a hospitality journey, where the offbeat vibrancy of the décor and music is always matched by the charming and, let's face it, effortlessly cool service.
To be honest, I could prattle on about the borderline overwhelm of just walking through some parts of the hotel during a bustling Fitzrovia Friday night, but that would distract us from the food, would it not? Well… would it? Before heading for drinks at Waeska Bar and then settling down for dinner at YOPO, the hotel's newly evolved high street restaurant assumingly named after the native South American tree, I did wonder whether you can really dine in such abstract surroundings without being totally taken away by all that was going on around you. I'll be honest – this was the first time I've ever eaten dinner while conscious of a grandiose ostrich looming over my shoulder. Who knows, maybe feeling a little on edge livens up the palate? In which case, fetch me the menu!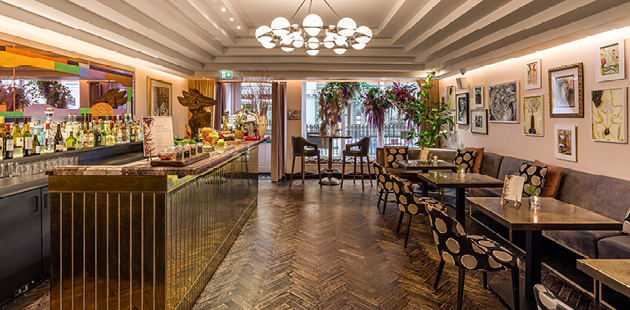 The bar area at YOPO
Pump up the volume
As you enter Waeska Bar, it's hard not to immediately be drawn to the collection of artefacts, objects and artworks housed behind the expansive labradorite bar. The cocktail menu in this rather swanky set-up is founded on ethnobotany – the study of a region's plants and their practical uses through the traditional knowledge of a local culture and people. Through experimentation and personal research of ancient herbs and botanicals, Waeska offers drinkers an evolving menu of cocktails. A bestseller is the Mangosteen, made with Patrón Silver tequila mangosteen, hibiscus-infused chipotle agave, jalapeño vinegar, grapefruit soda and chilli.
I'll get my old man observation out of the way here. At Waeska, the decks were spinning and the tunes were pumping out. It was an enticing atmosphere filled with, seemingly, only beautiful people (thankfully, I was permitted to stay). It was only when we were shown to the table in YOPO did we realise that the same music was being played in the restaurant… at the same volume. Was it conscious? Maybe so. But it could be one for The Mandrake's music curator DJ Karen Lopez to have a look at.
Overseen by executive chef George Scott-Toft, YOPO reopened its doors in October last year, revealing a newly evolved design and a modern South American menu with European influences. As like many other city-centre hotels, with YOPO The Mandrake is able to tempt in customers from the high street through its own separate entrance, so you'll always find a steady mix of those who are staying at the hotel and those who have just come for dinner (or lunch… or breakfast). Regardless of which doors you walk through, the submersion in music, style, artwork and glamour is immediately carried out – it's an inescapable experience.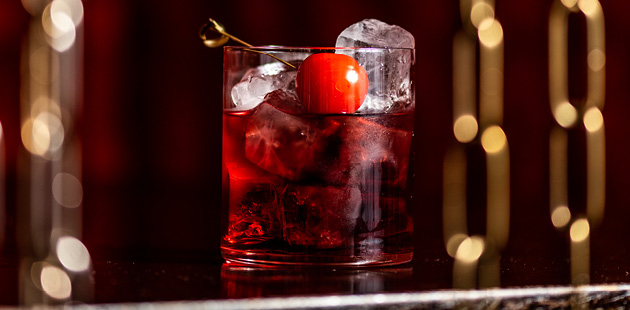 Waeska Bar is known for its explorative cocktail creations
South American soul
Could YOPO's food cut through the bass? You bet it could. Seeded wholemeal sourdough with South Downs butter and olive oil was brought to the table, and sat happily alongside Ostra Regal oysters from Conche de Bannow in Ireland. These beauties are served with Champagne granita and lime. Fresh, creamy tastes of the sea with a citrus pang and bubbles to wash down – perfect.
The rest of the menu is separated into four sections, each filled with a hefty choice of dishes, suggesting YOPO hasn't gone the way of a menu reduction like so many businesses are being forced into in the current climate. Across small plates, plates, meat and seafood, and sides, you'll find an exemplary selection of European-influenced South American cuisine, inspired by Scott-Toft's travels through Argentina, Chile and Peru. Now (humble brag alert) when I travelled through the first two of those countries, despite being an ignorant 18-year-old, I practically lived on empanadas. It didn't matter what those gorgeous pastries were filled with – prawn, cheese, fish, meat – they were cheap, fresh and everywhere we went. Of course, YOPO's beef and white bean empanadas were another level – taking on a more delicately crimped form, the piquant depth of the beef and bean challenged lightly by a squeeze of fresh lemon was the ideal starter.
Works of art
The presentation of every plate of food that landed on our table stood up to the detail and intricacies exhibited in YOPO and the rest of The Mandrake. Yes, you're dining in dark surroundings, but candles, fairy lights and finely tuned spots allow for just enough light to accentuate Scott-Toft's creations. It was a very pretty experience. Dishes such as tuna tartare, chilli and cashew cream; yellowtail, plantain and aji tiradito; and roasted Roscoff onions with romesco and hazelnuts (all from the plates section) were works of art in themselves. A roasted Cornish sea bass with chipotle butter was also easy on the eye and taste buds. Then, as more supermodel clientele began to arrive in the bar opposite, the meal was finished off with a traditional South American alfajor (made with flour, honey and nuts) but with a modern twist. YOPO's featured white chocolate, almond, guava and dulce de leche, and, similar to the empanadas that started the proceedings, was an ideal delicacy to end on.
Fitzrovia is a part of London that's been developing in culinary excellence and trendy clientele arguably since the arrival of the Riding House Café in 2011. Now, when heading north of Tottenham Court Road tube, you could easily get lost in all of the excellent dining options that await you. However, before you take on that journey, I would strongly suggest you make a beeline for Newman Street and get lost in The Mandrake instead. You won't regret it.
You may also be interested in…