Pub review: The Barley Mow, Mayfair
As the Cubitt House group makes its way to 10 London sites, Tristan O'Hana enjoys a night of splendour at its ninth addition.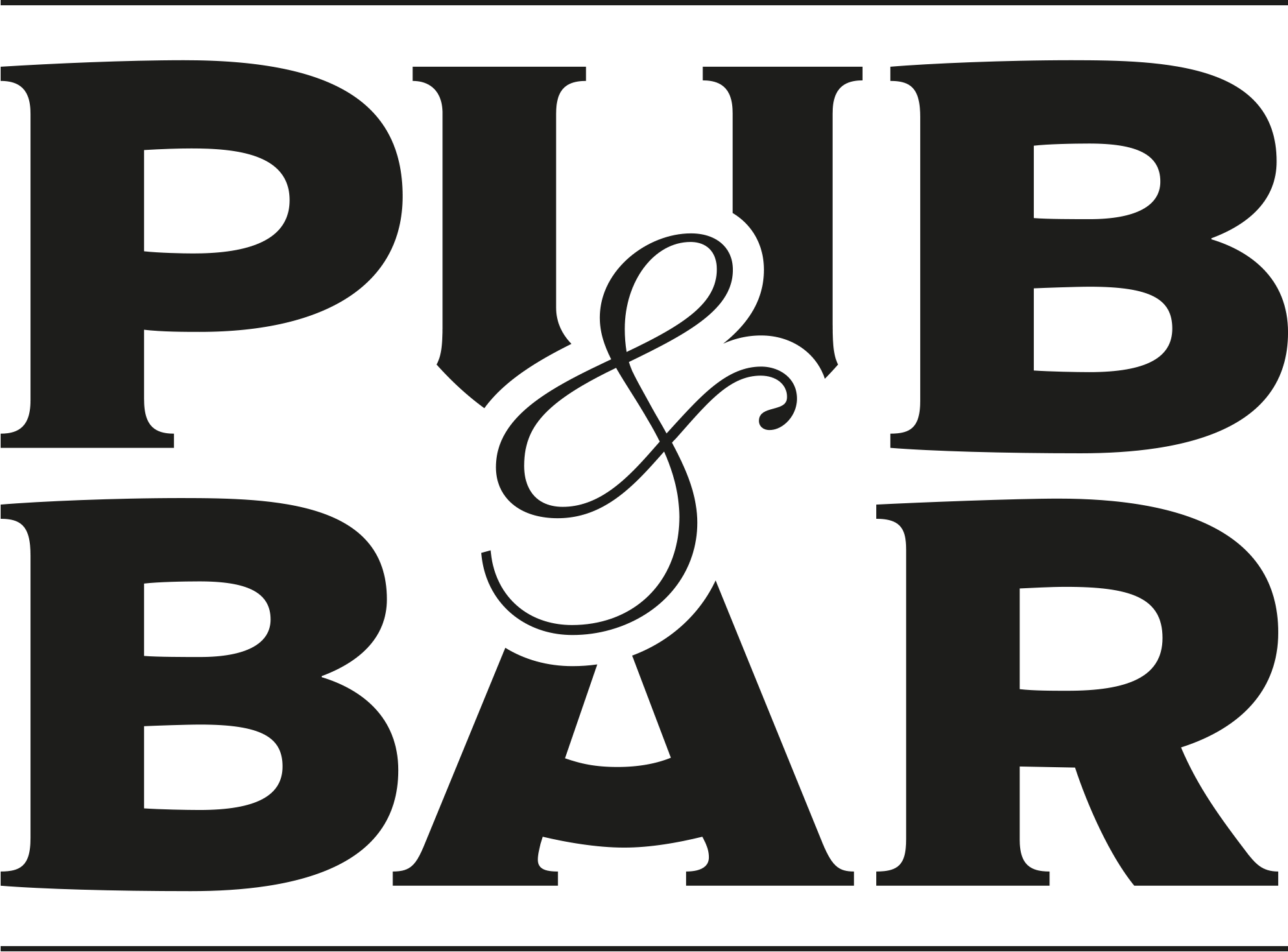 Nov 7, 2022
I do enjoy my infrequent trips into London's Mayfair. If the occasion allows, I'll walk from Waterloo station, taking in the time-honoured sights and sounds of Embankment, Trafalgar Square and Piccadilly – a tourist of tourism. And then, wallop! You hit Old Bond Street and a dizzying concoction of Lamborghinis, very serious faces and what must be pools and pools of perfume and aftershave batter the senses. There is so much money here, people, and I am most certainly a Sexy Fish out of water (please look that up if the reference hasn't landed – I do not see myself as an attractive fish).
The problem I've found with such affluent areas is the risk of elitism when it comes to the hospitality businesses that are based there. Yours truly has been eyeballed many times when nosing about new bars and restaurants in certain city locations. While I may not have pulled up to these places in a sports car as low as my kneecaps, I'd say my presentation hasn't warranted the "this place isn't for you" raise of an eyebrow from the doorman in a top hat. Alright, Dodger, I won't be any trouble.
However, within these money pits you can often find hidden gems – the type of pubs that have crafted an offer that combines genuine hospitality with excellent food and drink. As a result, they attract (and beautifully accommodate) a healthy mix of demographic, with no one out of place and no noses out of joint. The Guinea Grill and The Windmill, both Young's sites in Mayfair, are classic examples that many will have heard of. But over the last few months, Mayfair has been gifted a couple more in The Audley, a London pub debut from hospitality business Artfarm, and The Barley Mow, the ninth site in the capital for the Cubitt House group. Last month, I had a pint in the former before settling in for dinner at the latter.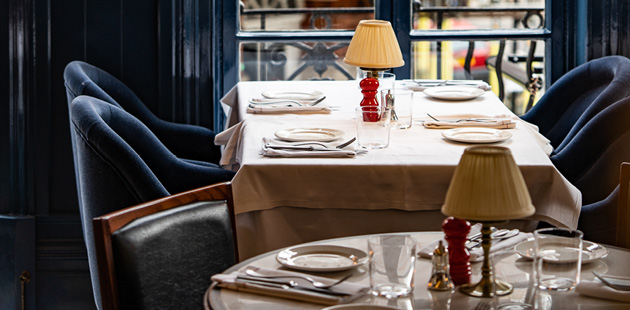 Upstairs at The Barley Mow
Cubitt House has got some serious talent in its team – the business is run by power couple Sam and Georgie Pearman of The Lucky Onion and Country Creatures fame. Chef and cookbook author Ben Tish is the chef director; Montana Fogg founders Seb Fogg and Laura Montana are managing director and openings director respectively; and Richard Sandiford, previously of Hawksmoor, looks after food development and new openings. It's no wonder this group is gaining a notable reputation for excellent pubs within London. Which is exactly what The Barley Mow is – excellent. Front-of-house is overseen by debut general manager Lara Rogers, while Chris Fordham-Smith looks after the kitchen as head chef. Rogers, incidentally, is daughter of revered publican Oisín Rogers, who has turned many a pub into gold over the years, no doubt instilling his knowledge into his children along the way. Right, got all those names? Good. Onto the pub.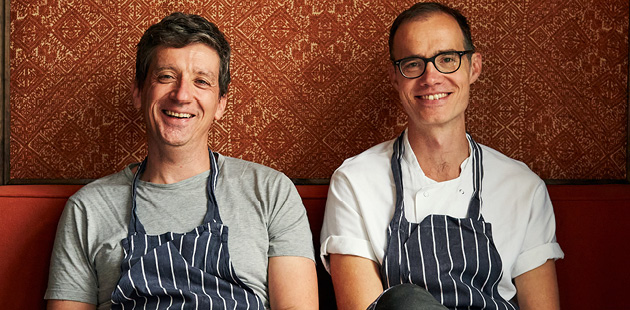 Chefs Ben Tish and Chris Fordham-Smith
Cubitt has done a fine job with the refurbishment of this place. A friend, who joins me on this visit, remembers stopping in for a pint back in 2018, describing it as "proper grotty". Well, grotty The Barley Mow no longer is. The dark, narrow bar area of the pub sits on the ground floor – sleek, silver beer taps, dark woods, outlandishly comfortable bar stools. You could lose a few hours in there, easily. The Cubitt Haus pilsner is a perfect entry level beer, but the rest of the selection on tap is noteworthy too – a total of nine on draught, plus two casks. Upstairs is where you'll find the restaurant, with the air of elegance growing increasingly thicker as you climb the industrial-yet-smart concrete steps to the first floor. It's a gorgeous dining room that is serving up dishes equally as delectable.
There are a few sections to the à la carte – snacks, starters, seafood, mains, carvery and sides (plus a small addition of sauces). If you've got the time (and money, we are in Mayfair remember), why not settle into the restaurant's dark blue upholstery and make your way through the lot? The haggis scotch egg (£10) from the snacks section comes with a whisky mayonnaise and is a fine addition alongside the aforementioned pilsner. As is the hot meat bun (lamb on our visit) with house pickles (£13). The soused mackerel, fennel, cucumber and crème fraîche jumps out from the starters (£12), but you could make a worse choice than ordering a selection of seasonal oysters, Scottish langoustines and steamed cockles before moving onto mains.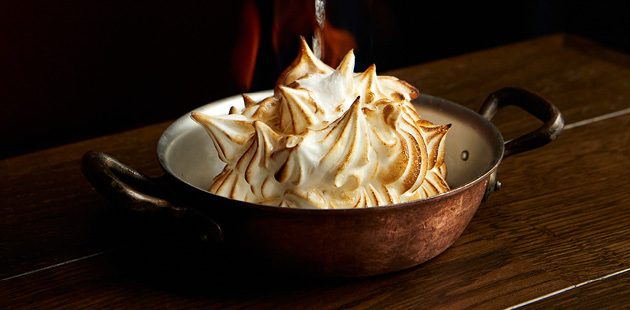 The Barley Mow Baked Alaska
I ask our wonderful waiter what to have between the Dover sole (on or off the bone), served with Meunière or Champagne and muscat grape sauce, or the native breed beef pie and mash with parsley sauce (£23). "Pie," he declares without blinking, suggesting I also add a deep-fried rock oyster for £4, which I adheringly do. It's a stunner (pictured above). Best pie in a very long time. No regrets. Elsewhere on the table is a giant size portion of half a free range chicken ("yeah, they're big chickens," Lara tells us later), coated in a sage and truffle butter (£25). Sides are gratin dauphinoise, creamed spinach and seasonal greens, all £6 each.It was a spread of kings, let me tell you. Flawless, just like the bottle of Pinot Noir Vignoble Guillaume that also joined in the fun.

Before heading back out into the Duty Free aroma of the Mayfair streets, there was time for one more pint in the downstairs bar, allowing for much needed digestion and appreciative reflection on the meal just past. This was a faultless dinner, and one I'll be fondly reflecting on for some time to come.
You may also be interested in…