Feature: Vegan Dishes
The power of plants is deeply rooted. Pub & Bar unearths the reasons why vegan dishes should be blossoming on your menus this Veganuary.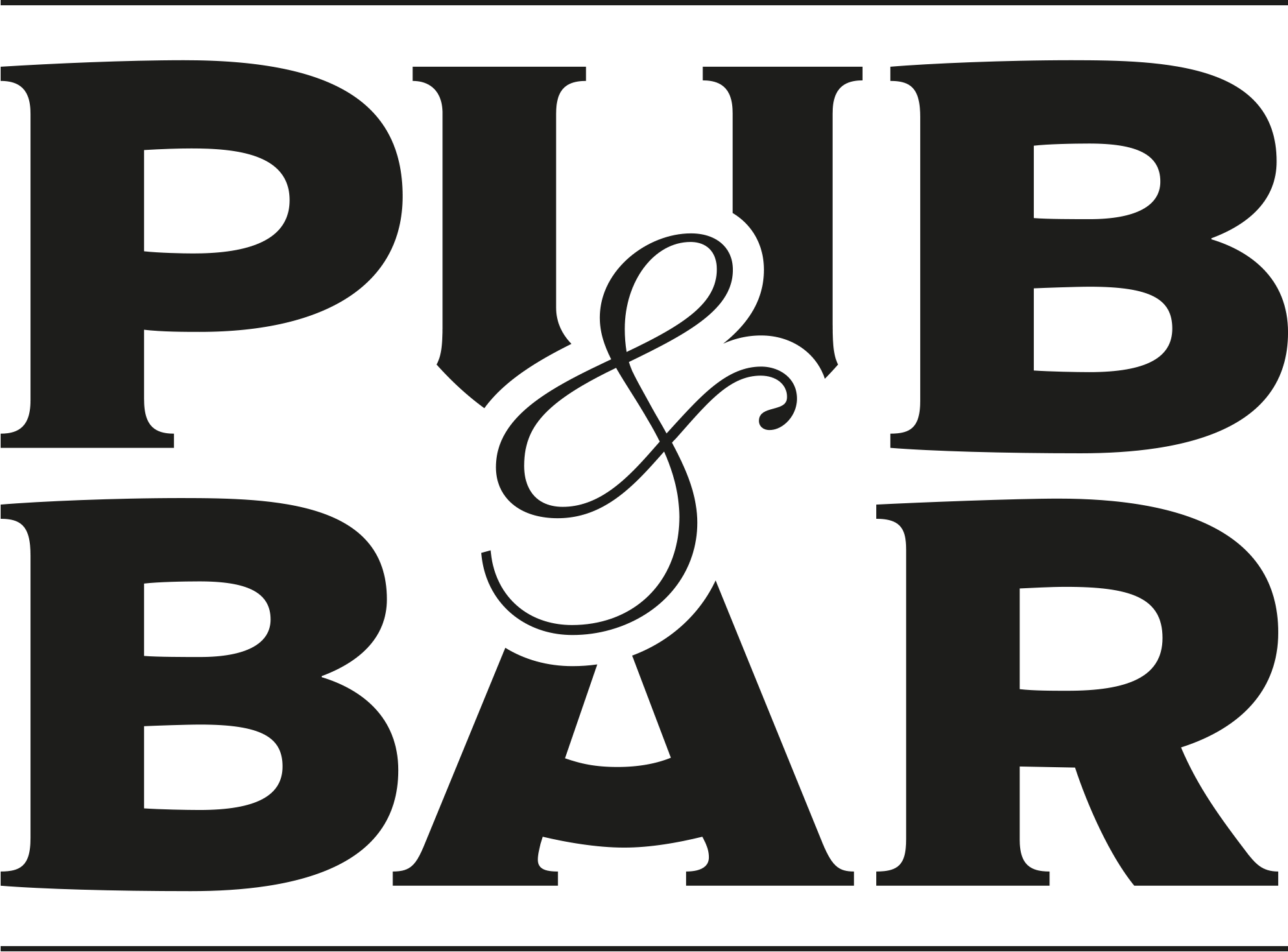 Jan 8, 2021
V for Victory
Whether they're looking to save the planet one meal at a time or have simply become obsessed with the versatility of jackfruit, most people are cutting down on their meat intake and have found themselves experimenting with plant-based substitutes. And that's just at home. Consumers have long been using meals out as an excuse to indulge in tasty vegan dishes they don't feel they could easily replicate in their own kitchen.
Campaigns like Veganuary are an excellent opportunity to showcase just how fantastic plant-based alternatives can be, especially if your regular menus usually only have a couple of vegan options for guests. If you think working on a special vegan menu is a waste of time and energy, or would fall on deaf ears – particularly when there's been so much else to think about in the lead-up to Christmas alongside Covid – you'd be very much mistaken.
"This year saw the most successful Veganuary to date, with more than 400,000 taking the pledge," says Phil Thornborrow, head of foodservice at Quorn. "The actual number of people who took part is much higher, with 1.3m people giving up animal products in January 2019."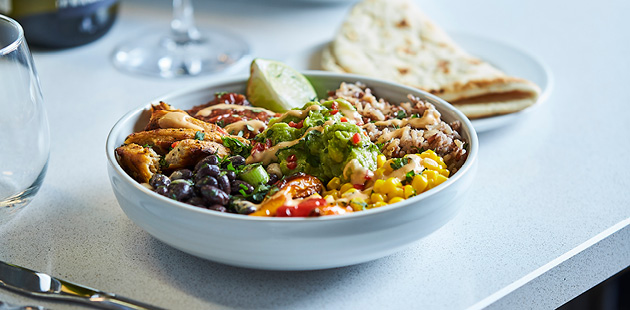 With each year that passes, consumers get that little bit more cautious about their meat intake – with many opting to eat less meat and, when they do choose to, making sure it is of a better quality.
"The number of vegans quadrupled from 2014 to 2019, and vegans and vegetarians are set to make up 25% of the population by 2025 – and flexitarians just under 50% – according to the Vegan Society," explains Gordon Lauder, managing director of Central Foods. "Recent events may well have accelerated the trend. According to Mintel, a quarter of young British millennials say that the coronavirus pandemic has made a vegan diet more appealing, while the June survey also revealed that a vegan diet was proving more attractive to around 12% of Brits, rising to more than 20% of Londoners, since the start of the pandemic."
Lauder notes that younger generations are driving the trend, and that they are key pub goers of not just today, but the future too, so demand for vegan dishes certainly looks here to stay.
"Social media is the perfect way to share images and info about your plant-based menu items, using all the relevant hashtags," he adds. "#Veganuary has had more than 1m posts on Instagram alone, and the charity that runs the annual event in January to inspire people to try vegan options for a month has more than a quarter of a million followers on Instagram and nearly 60,000 on Twitter."
Swap in, swap out
Not all customer bases are interested in exploring plant-based menus, of course. If you're currently running a takeaway service, giving people the option to swap the meat for plant-based alternatives within an already popular dish could be a good way to introduce this focus.
Such an approach has worked at The Harwood Arms in Fulham – currently the only Michelin-starred pub in London. The team modified one of its best-selling menu items, providing an alternative which although is vegetarian and not vegan, highlights how plant-based meat substitutes can be successfully integrated into dishes.
"The Harwood Arms is famous for its venison Scotch egg – it's been on the menu ever since the pub opened 11 years ago and has become a firm guest favourite," explains head chef Sally Abé. "My mum and sister are both vegetarian, which meant they could never try our signature snack, so I thought it would be great to come up with a version they could eat too, and the 'Glamorgan Scotch Egg' was born."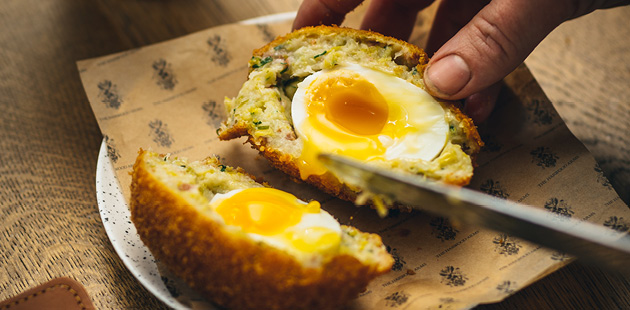 Abé wants other Michelin-quality operators to know that it is possible to create something delicious using a meat alternative.
"You need to be sure there's a demand for it among your audience," she advises. "There's no point making three quarters of your menu vegetarian if only 5% of your customers are veggie. That applies especially to somewhere like The Harwood Arms, where we're renowned for our meat and game dishes – there's no point trying to push it too far because that's not what our guests want and it's not what they come to us for. It's great to have it as an addition."
Abé recommends that operators starting out with meat alternatives for the first time should perhaps not use it as the main component of a dish.
"I wouldn't serve it as a steak alternative, for example," she adds, "I would incorporate it into a dish to lift it, rather than using it as the main focal point. Start small by using it as an addition and use the best quality meat alternative you can find. Try and taste them all – only use it if it tastes delicious."
Imitation nation
Abé's advice to know your audience is key. Forcing a Veganuary message – or overloading the menu with plant-based options at any time of year – will likely only put people off if they're not a receptive consumer in the first place. Offering guests the option to swap ingredients with plant-based imitations (perhaps even at a lower price point) could be a great place to start.
"The sophistication and speed at which the plant-based industry is moving means we'll continue to see a greater variety of and more efficient products," notes Jade Dodds, foodservice and QSR director at Meatless Farm. "Bolstering your vegan menu doesn't mean you have to re-invent the wheel though, it could be as simple as offering plant-based versions of your traditional menu dishes – from bangers and mash to spaghetti Bolognese. There's a level of familiarity with consumers which can be effective in driving footfall and sales.
"In fact, our recent research shows that consumers would like the option to 'go meatless' on all dishes, rather than have a separate meat-free or vegetarian menu."
Operators working with a limited team due to the pandemic might prefer this more secure option – especially if you're wary of the cost-effectiveness of bringing new ingredients on board. But, if you've noticed customers more regularly ordering dishes from your vegan selection, perhaps it's time to ramp things up.
"With more consumers seeking out vegan and vegetarian options on the menu, this is becoming less about adding a couple of token non-meat alternatives, and much more about giving consumers a direct alternative to the meat-based options on the menu," says Nigel Parkes, commercial operations director at Creative Foods. "This includes firm favourites such as burgers and pulled pork. And it goes without saying that vegan and vegetarian condiments should also be a must. Mayonnaise is incredibly versatile. We see vegan mayo being used to create toppers, for mixing to add flavour, spreading, dipping for indulgence, or drizzling for a bit of theatre."
A vegan tail
Some operators are already hitting the high notes in the plant-based chorus, like BrewDog. The team is proud that 50% of its menu is plant-based – though it doesn't preach a vegan message. From cauliflower wings to sourdough pizzas (with the odd burger in between), there's plenty for people to choose from, and customers can benefit from two-for-one vegan and veggie mains on Mondays in BrewDog's UK bars.
The group hasn't shied away from sharing a platform with experts that have created vegan businesses, either. Successful plant-based YouTubers, TV presenters and authors Bosh! have been busy creating some vegan specials for the menu, and London's first vegan chicken shop Temple of Seitan now provides its infamous seitan wings to BrewDog's bars (as well as the seitan for the seitan burgers and veggie haystack). BrewDog's Dalston bar has gone one step further and has a completely vegan kitchen, with Biff's Jack Shack taking up residence and serving an eclectic mix of vegan junk food and all 24 taps of craft beer are 100% vegan, too.
Plant-based options can be easily slipped into your culture without becoming overbearing, or to the detriment of your meatier dishes. The way you communicate your offering is key – especially if it's only one part of a meal you're making plant-based. Why not use this very strange year to 'unsettle' your own menu, or challenge your own preconceptions around vegan food? You might just surprise yourself.

Central Foods: centralfoods.co.uk
Creative Foods: creativefoods.co.uk
Meatless Farm: meatlessfarm.com
Quorn: quornfoodservice.co.uk