Feature: Breads, bases and buns
Pub & Bar talks to the Wales Pub & Bar of the Year about how a lockdown bakery project rose to the occasion and became a permanent addition to the Hare & Hounds business.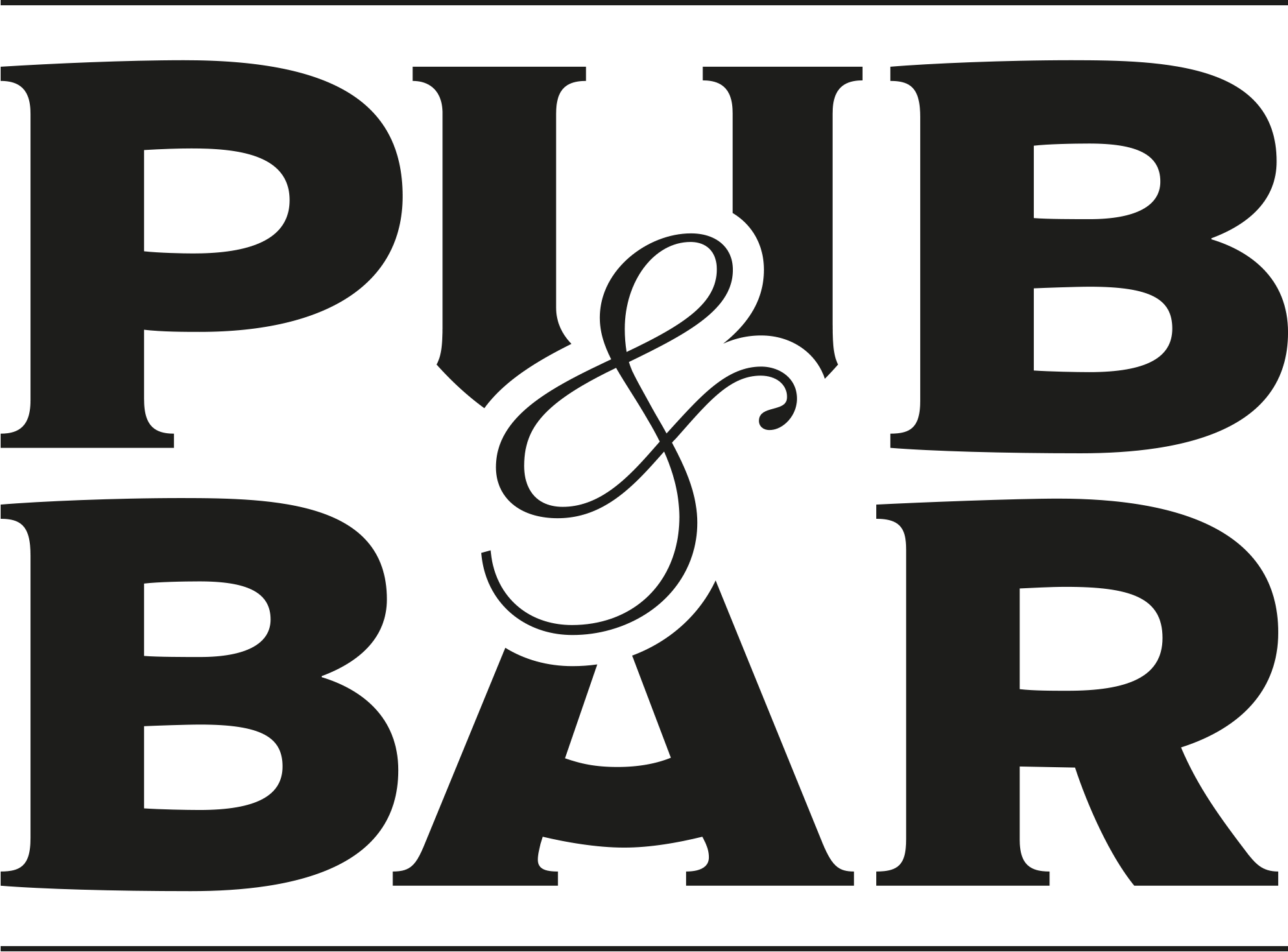 Oct 22, 2021
The Hare & Hounds, based in Aberthin in Wales, has been held in high regard by Pub & Bar for some years. The late, great Charles Campion visited the pub for this magazine many moons ago, returning with rave reviews about how chef proprietor Tom Watts-Jones had taken all his learnings from London's St John and Anchor & Hope, and was now crafting his cuisine with appropriate finesse for the residents of Cowbridge and beyond. It's pub food that would impress in any UK city, but centred all around the vast sourcing options and terroir of the local area. Trust us, it's worth a visit.
Is this why Hare & Hounds was named the Wales Pub & Bar of the Year at last month's National Pub & Bar Awards? No. Well, yes and no. The tricky blend of high quality food and a back to basics local is a standout trait, granted, but what really set this pub apart from the other seven Wales County Winners this year was a project-turned-full-time-operation that popped up, rose and settled as a result of Covid-19.
The project? A bakery. A bakery so successful that Watts-Jones and partner Sarah decided to make the pivotal add-on a permanent addition to the company's portfolio, which also includes The Heathcock pub in Cardiff. And so, when it came to constructing a feature around the importance of breads, bases and buns for pubs and bars in the modern on-trade, who better to talk to than an operator who has managed to turn a last-minute revenue generator into a valuable addition to the business, as well as the local area?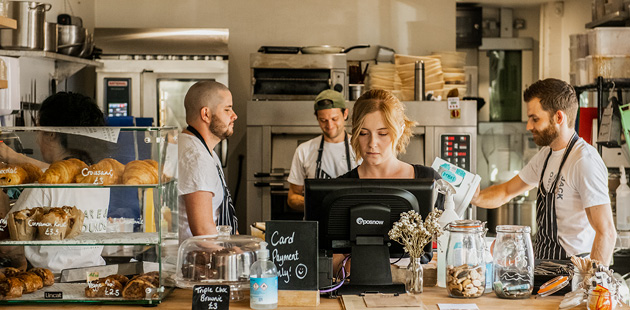 Hare & Hounds Bakery team
P&B: Sarah, congrats on Hare & Hounds being named the Wales Pub & Bar of the Year, and thanks for talking to us. Right, you're now a pub operator that runs a bakery. How did it all come about?
SWJ: When we first went into lockdown in March 2020, we were panicking about keeping an income coming in, especially before any of the financial assistance was announced. We decided to do takeaways, and were thinking about what else we could offer. We've always been proud of our bread, and when a friend offered us a van to put in the car park, we decided to use it to sell bread from.
This was an essential for the village, and meant that people didn't keep having to go to the supermarket. This evolved into adding pastries and then sandwiches as well, and provided a nice place for the villagers to see each other when we were in proper lockdown. Then a building that we've always had our eye on in Cowbridge became available, the Welsh government were giving out grants to help your business survive Covid with new ventures, and it seemed like more of a strong certainty than the pub side of the business, so we went with it.
P&B: What a fortunate set of events! As those customers knew you as a pub in your area, were there specific products/menu items that were essential to your reputation?
SWJ: Everything needs to be of the best quality; we're known for high quality local and seasonal food, so the bakery needed to be consistent with that. I guess the core thing is the sourdough being of exceptional quality, especially now that the bakery supplies Hare & Hounds and The Heathcock with bread.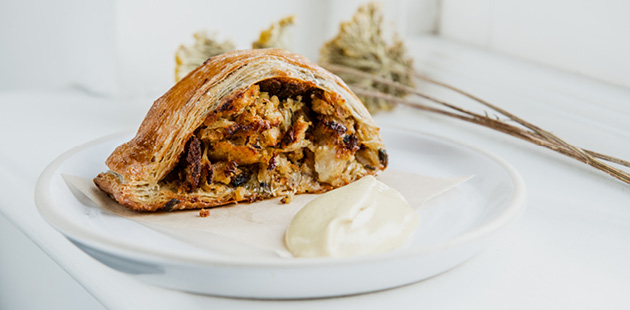 The Hare & Hounds Bakery sausage roll
P&B: So, sourdough is a must, but how do you decide on what else to bake each day?
SWJ: Gareth in the bakery has his core things that are always on - sourdough, croissants, pain au chocolat etc. The rest comes from him talking to his producers about what is available, seasonal and cost-effective. The pastries change a bit with the season. For example, for the jam fillings in doughnuts, Gareth will make the jam based on what fruit is in abundance. Our local veg supplier gave us a lot of soft strawberries over the summer for jam. The food on the bakery menu follows the pub's same ethos of local, seasonal produce. Some things are also made up from things we have left over, ideally nothing gets thrown away.
P&B: How often do the bakery goods end up on the pub menu?
SWJ: It's only the bread at the moment mainly. So they provide each pub with about five loaves of sourdough a day, which is then sold on the menu. They also make puff pastry for the Hare, for example when beef/venison wellingtons are on the menu. When The Heathcock gets more into the swing of its new bedrooms, breakfast will probably come from the bakery.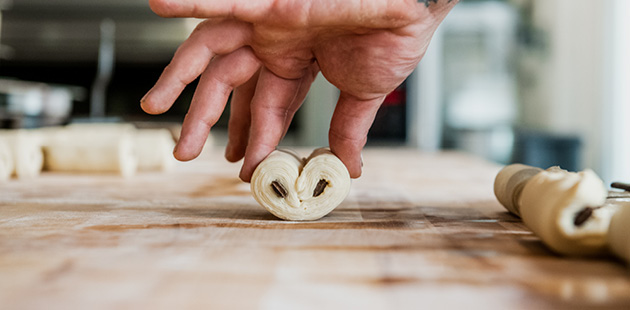 Preparing pain au chocolat
P&B: What are your current best sellers?
SWJ: Snickers pain au chocolat fly off the counter whenever they're on, and the amount of bacon brioche rolls we sell always surprises us. The white sourdough loaves always sell out, and generally by the end of the day all of the pastries have gone. We've also got a crab crumpet on the brunch menu this week that keeps selling out.
P&B: What advice would you give pub operators who are looking to up their baking game?
SWJ: Investing in and nurturing good staff (our bakery wouldn't have been even an idea without our then pastry chef, now head baker, Gareth), good equipment (it's amazing the difference in what we can produce with the equipment we've bought for the bakery), patience, time and caring about the end product. It's not something to be rushed!
You may also be interested in…